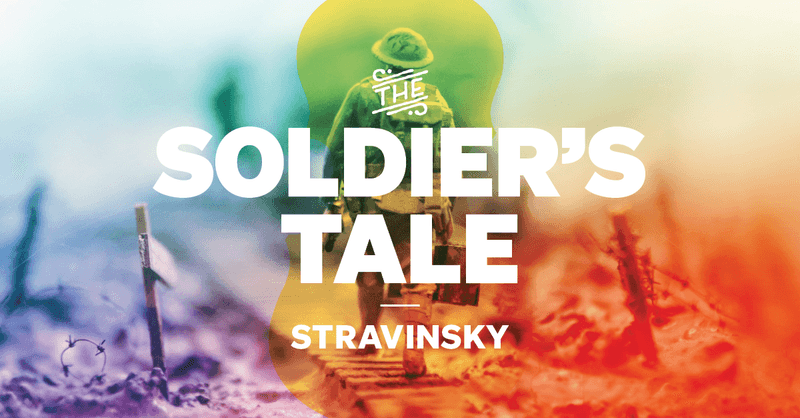 Igor Stravinsky and Charles Ferdinand Ramuz created The Soldier's Tale to be able to tour something quite easily around, and as a way to make some much needed money.
The story is about a soldier coming home from war who meets the devil and gets tempted to trade his most precious possession resulting in him thinking he's been away for three days, when in reality it has been three years, leading to him feeling isolated and alone. After many adventures he manages to defeat the devil, at least he thinks he does. The piece is all about how no one can have it all, and be happy with what you've got.
It's a real mixture of a piece, combining theatre, music, ballet, with a sprinkling of singing too.
It's a great cast, Sepelini Mua'au is the eponymous soldier, he gave the role gravitas and emotion; Peter Hayden was a really engaging narrator who held the whole piece together and connected it all. The Devil was a fantastically creepy and very effective bit of puppetry with Sophie Hambleton brilliant in the role, she seemed to relish every second, as did we the audience!
The two RNZB dancers Leonora Voigtlander and Jamie Delmonte were great, especially their dance towards the end of the piece with both a waltz and tango piece. Voigtlander gave a great solo as the princess and Delmonte was wonderfully utilised as the 'baggage' of the soldier, he was sort of the soldier's soul/spirit and performed it well.
The music was fantastically performed by the NZSO and very ably conducted by McKeich. The production from Sara Bodie with its mixture of puppetry and real life worked perfectly and Shaun James Kelly's choreography was thoughtful, modern and beautiful. I thoroughly enjoyed this performance, the mixture of types and genre, it all came together into a very entertaining evening, I hope it gets revived soon!